Why we support the ELGL Diversity Dashboard!
The Engaging Local Government Leaders (ELGL) Diversity Dashboard is the first national data collection on the gender, race/ethnicity, age, and prior education/work experience of local government leadership. The Diversity Dashboard is the first and most comprehensive national data collection on the demographics of local government leadership. ELGL has conducted annual surveys of local leaders from 2018 to 2020. The 2021 survey will provide four years of comparison data.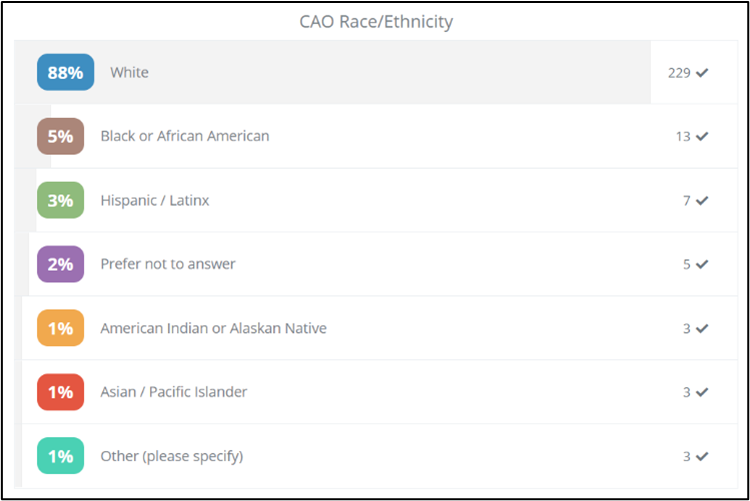 In 2019, the results demonstrated that 30 percent of CAO respondents and 54 percent of ACAO respondents are female. The percentage of women in local government leadership varies depending on the survey methodology and the number of responses.  ICMA data showed 13 percent female CAOs and 34 percent female ACAOs in 2014, when the #13Percent initiative was launched. The work isn't over! Ensuring that women and other underrepresented minorities advance to the senior leadership roles in local government needs intentional focus. In 2019, the ELGL survey reported that 88% of those in the CAO position were White, with 12% minority in the graphic displayed here.  In 2020, ELGL partnered with CivicPulse, a nonprofit organization founded by recent PhD graduates from Stanford University, and opened the survey to all levels of local government employees.
We support the Diversity Dashboard because:
The dashboard gives a comprehensive view of local government administration demographics.
By analyzing the data and creating this platform, the Dashboard provides a visual representation of aggregate demographics across the country.
When you can visualize the data, you can make impactful changes to your organization.
The survey is anonymous, and it only takes 5 minutes to complete!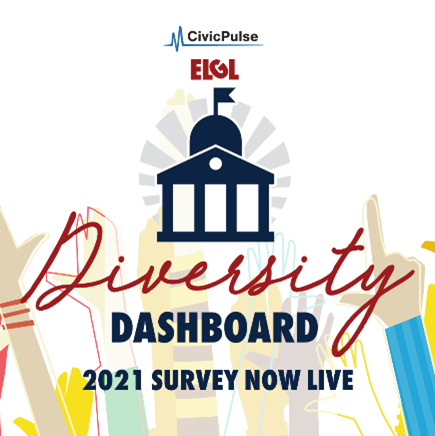 Improving diversity in local government remains a priority across the country. The recent pandemic has illuminated the persistent issues women face in career advancement and maintaining work-life balance. Responding to the 2021 Diversity Dashboard survey will give community leaders and administrators important information for making improvements to their own policies and practices.
The best way to improve the diversity of local government leadership is to understand who local leaders are.
Learn more about the survey and respond at http://www.ELGL.org/diversity-dashboard today!
By: Mysi Hall, MPA, PHR, HR Generalist