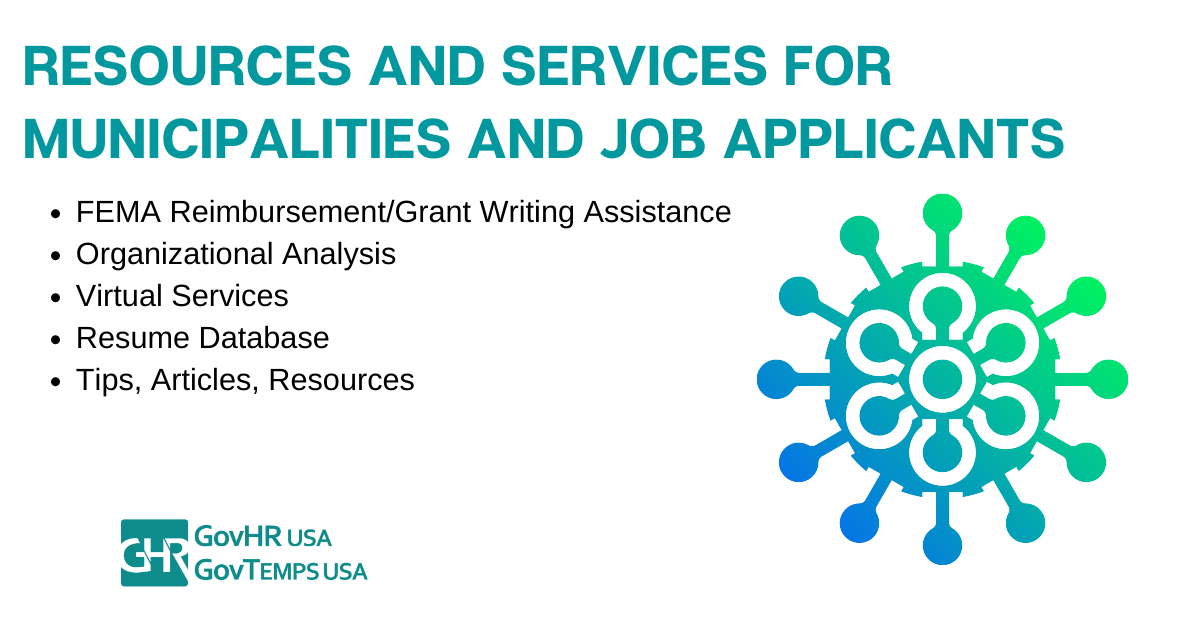 At GovHR we understand this is a difficult time for many of our clients and applicants. We are dedicated to helping you continue to provide excellent service to your communities.
Scroll down for more info! 
We are offering the following resources and services:
---
FEMA Reimbursement/Grant Writing Assistance
We can help! GovHR USA understands that the local governments are overwhelmed and short on time right now with emergency response activities for the COVID-19 pandemic. GovHR is currently providing clients with assistance in obtaining FEMA Covid-19 reimbursements to be in accordance with the guidelines and requirements of the Federal Management Agency (FEMA) Public Assistance Grant Program. Email info@govhrusa.com for more information on FEMA Reimbursement Assistance.
https://www.govhrusa.com/fema-reimbursement-grant-writing-assistance/
---
Reimagining Local Government: A Guide to Organizational Analysis
What services will local government organizations need (not just want) to provide in the future? An organizational analysis can drill down into the current services offered with the associated service delivery expectations organization-wide. Read more to find out how an organizational analysis can help your municipality: https://www.govhrusa.com/blog/reimaging-local-government-a-guide-to-organizational-analysis/
---
Virtual Services
Ask about our Virtual Services! We will work with your community to provide a 100% virtual services.
Our services include:
Virtual Executive Recruitment
Virtual Assessment Centers
Virtual Studies and Services (Classification and Compensation, Organizational Assessment,  Grant writing, and more.)
Zoom meetings/interviews
Digital candidate materials, and
Community and Staff engagement surveys.
Email info@govhrusa.com for more information.
---
Job Search Tips
6 Tips for a Job Search During the COVID-19 Outbreak
---
Video Interviewing Tips
5 Tips for a Successful Video Interview
Zoom Video Tutorial: https://support.zoom.us/hc/en-us/articles/206618765-Zoom-Video-Tutorials 
---
Articles/Resources
Reopening and Rebalancing Guidelines for Parks and Recreation
https://www.govhrusa.com/articles/reopening-and-rebalancing-guidelines-for-parks-and-recreation/

When will your city feel the fiscal impact of COVID-19?
https://www.brookings.edu/blog/the-avenue/2020/03/31/when-will-your-city-feel-the-fiscal-impact-of-covid-19/
The Coronavirus Economic Reopening
https://www.wsj.com/articles/the-coronavirus-economic-reopening-will-be-fragile-partial-and-slow-11586800447?
Working Remotely A Guide for the Public Sector
gfoa.org/sites/default/files/Working_Remotely_GFOA_FFA-04-2020.pdf
COVID-19: LOCAL ACTION TRACKER
https://covid19.nlc.org/resources/covid-19-local-action-tracker/