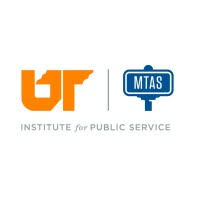 University of Tennessee Municipal Technical Advisory Service
The University of Tennessee Municipal Technical Advisory Service (MTAS) seeks applications for an outstanding opportunity as a Municipal Management Consultant in one of its West Tennessee offices-Memphis, Jackson, or Martin.  MTAS is an agency of the University of Tennessee Institute for Public Service and provides consulting, technical assistance, training, and research services to Tennessee cities. MTAS is looking for experienced city managers and assistant city managers who are looking for their next career step.
 Duties and Responsibilities:
The professional consultant selected for this position will provide advice and assistance in municipal management to an assigned set of cities in Tennessee, regardless of size, on a broad range of issues and problems. The consultant will work with various state agencies, Tennessee Municipal League, individual state legislators, as well as various state associations of municipal officials.  The consultant will provide direct client assistance as well as research, develop, and maintain timely information on critical issues. The selected consultant also teaches multiple municipal training courses within the context of a well-defined training curriculum. You will also assist other consultants in the agency in the performance of individual and team projects. This position performs other special project work as assigned.
Required Qualifications:
Education:
The position requires a master's degree in public administration or in a related field.
Experience:
This position requires at least five years employment in local government, including three years as a city manager or six years as an assistant city manager. Preference is given to experience as a city manager or assistant city manager in a city with a minimum 10,000 in population.  Extra consideration will be given for additional experience in city management.
Skills:
The position requires knowledge and understanding of the problems faced by city officials.  Front-line city manager experience is necessary to establish credibility and effective working relationships with city officials. It requires independent planning and processing of projects, questions, training, etc. The work is performed both in the field and the office and as such, requires constant scheduling and updating of work activities. The consultant must provide advice and assistance to city officials in the operation of their respective offices.  In doing so, the consultant must also possess the following skills: 1) managerial, 2) analytical, 3) conceptual, and 4) interpersonal.  These skills are used daily in identifying a specific city's problem and providing advice and assistance to solve the problem.
Qualities and Traits
Ability to build relationships, advocate for change, adapt, manage a project, and work in a team environment. A high level of cognitive or intuitive skills is necessary to fully understand, design, and implement successful solutions to municipal problems.
Location:
Memphis area, TN-Memphis, Jackson, or Martin office
A COVER LETTER, RESUME AND REFERENCES ARE REQUIRED. Applicants are encouraged to review all position requirements prior to applying. Salary is based on a combination of professional experience and qualifications.  Applicants must submit a resume with a minimum of three references. The position is open until filled.
Please apply at: UT MTAS Consultant
Any questions regarding this position please contact:
Angie Carrier
Municipal Management and Finance Program Manager
UT Municipal Technical Advisory Service
angie.carrier@tennessee.edu
(865) 974-9063 desk (423) 483-0039
Mtas.tennessee.edu